Hi! I hope you are doing well.
I just want to tell you that the MicroPython Programming with ESP32 and ESP8266 eBook version 1.1 is now available to all active RNT Lab members!.
It's a colorful PDF eBook with approximately 340 pages that you can download right now. Here's how you can download the eBook: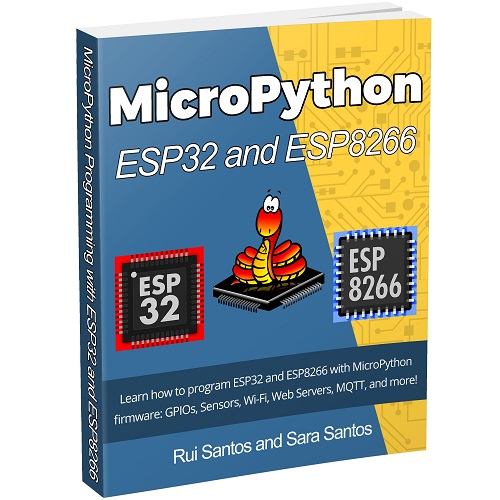 What's New?
In the MicroPython eBook version 1.1 that was updated today (February 13, 2019), here's what's new:
Instructions to program the ESP32/ESP8266 with MicroPython firmware using an alternative IDE – Thonny IDE (page 328)
How to flash MicroPython firmware with esptool.py (page 313)
ESP32 Touch Pins (page 116)
Getting Data Using the OpenWeatherMap API (page 211)
I2C OLED Display (page 274)
Control DC Motor (page 284)
Control an Addressable RGB LED Strip (page 298)
Fixed small bugs in the code (you can find the latest changes on GitHub)
Fixed some typos and eBook formatting
Updated the companion Troubleshooting PDF guide with the 7 most common errors with MicroPython
That's it for now! We hope you enjoy this new eBook!
Rui Santos