Hi,
Most (all) sketches I seen rely on printing the IP Address to the serial monitor (e.g. Serial.println(WiFi.localIP());).
However, I 'm trying to figure out how a user can know the IP Address to put into the browser without any connection to IDE. In other words, if I hand someone a camera they will be able to connect. My thoughts were to use mDNS and setup a name corresponding to IP Address but haven't got that working yet (using Android).
Ideally what I would like is for the android user to access the ESP32 Hotspot, type in the browser something like http://myEsp and the webpage launches?
I'm open to any suggestions and any help is appreciated.
Thanks
Pat
3 Answers
Hello Pat, you are exactly on the right path. For example you can use mDNS which would look something like: http://myesp.local There's an example in the Arduino: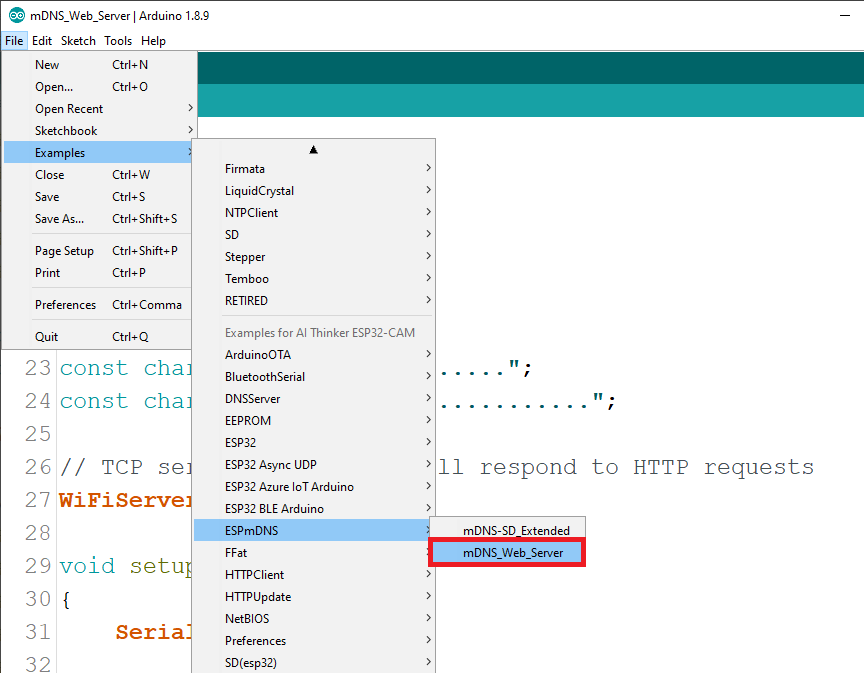 However, if your ESP is set as an Access Point, you can set the default IP address will always be: 192.168.4.1
Hi Rui,
Thanks. Your suggestions were a big help. Here's my findings that I'm posting as it may be of value to others.
Using ESP as an Access Point (i.e. where the ESP publishes a hotspot) worked great but of course your device then has no internet access…so a great option for communicating between a device and esp but not so good if you want to access the 'outside' world.
mDNS worked perfectly but not on Android…apparently this is a known restriction.
So leaves me with two options….
1. have a small display to show the IP Address assigned to the ESP Server (not ideal)
2. Use a static IP Address.
I went with the static IP Address option for now and this worked fine.
My intention is that each user connects to the esp using their smartphone hotspot. I'm not a network guru but, in theory, if there are multiple devices with the same static IP Address but on their own hotspots then this should be fine(?).
Anyway, Rui, I hope that makes sense and thanks again.
Regards

Pat